We haven't had any winter storms in the Sierras and it's almost December. I saw this as a fantastic opportunity to bag another big mountain while the snow levels were still minimal. Boundary Peak had been on my shortlist, so this seemed like a great choice. Located just north of White Mountain, Boundary Peak is very remote. Given the skyrocketing COVID cases, I thought not seeing any other people would also be a great idea. The weather report forecasted a high of 20 and a low of -5 degrees Fahrenheit. We had the gear for this kind of cold so I didn't think much about it. In my mind, it was simply an academic problem of trip planning. I didn't give it much thought. Actually experiencing that kind of cold is harder to prepare for.
After a late morning start on Saturday, my son Wes and I drove most of the day up 395, then across 168 to the Nevada desert. We arrived right before 5:00 pm, just as the sun was setting. It was 28 degrees and the temps were falling fast. Wes and I were used to 75 degree days and 50 degree nights, so this was a big shock to our systems. We kept a fire going until 7:30 pm, but we just couldn't stay warm, so we turned in for the night. Within an hour, ice had formed on the inside of the tent walls, but fortunately we stayed pretty warm in our winter bags.
The Unforgiving Scree Slope
We got up in the morning, chugged hot coffee, and got on the trail fast. We had to keep moving to stay warm. The trail started out easy as we followed a frozen stream up the drainage that leads to the east slope of Boundary Peak. This classic treeless desert terrain has its own stark beauty about it that lifted my spirits that morning.
It's just over 4 miles to the summit, with ~4,000 feet of elevation gain, so the trail is relatively steep. What makes matters worse is that most of that elevation gain happens in the last 3 miles! As we approached the slope that leads to the summit ridge, the climbing got increasingly steeper and looser – and it took hours longer to make it to the summit ridge than we planned for. Each of us joked about being on a treadmill–constantly moving up, but never getting any closer to the ridge that was just above us.
The Boundary Peak Ridgeline
Once we got to the ridge, only a series of false summits were visible. Wes was pretty demoralized from the scree slope and pondered calling it a day and going home. Then some other hikers passed us coming up from another route – with a dog! I think his pride got the best of him and he pushed on. How could we let a dog beat us to the summit?
How could we let a dog beat us to the summit?
Along the ridge, there were some easy scrambling sections as we moved over a series of gendarmes along the way to the summit. We started on the trail at 7:30 am and reached the summit by 1:30 pm – a much longer trip than Wes or I had planned on. I thought we'd be there by 11:00 am. But we made it!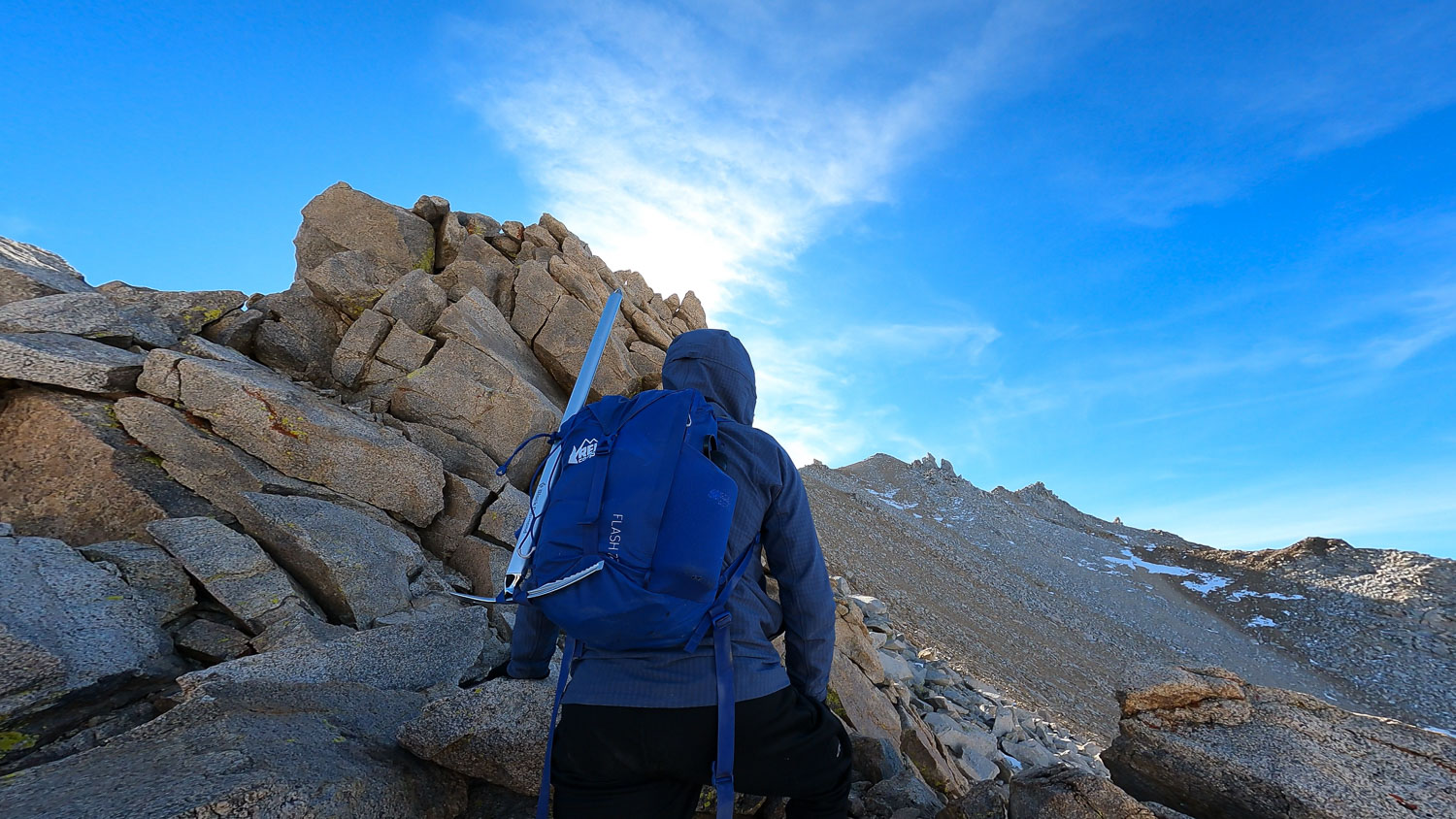 Boundary Peak Summit
The views along the ridge, and especially at the summit of Boundary Peak, were incredible. This was the clearest day I had seen all year. We could see for over a hundred miles across Nevada and I could even make out the distinct shape of Mount Humphreys along the Sierra Crest to the west. We had some snacks and hot tea, then headed down in the hopes that we could be off-trail by sunset.
Scree Surfing
We were both a little worried that we'd get back in the dark. We didn't have any fear of getting lost, but we didn't have enough layers to stay alive out there all night so we kept a fast pace. The scree slope that had taken hours to ascend only took 45 minutes to descend. All the squats I've been doing in my home gym really paid off. The scree was loose and I was able to maintain a controlled-jogging-slide all the way down to the bottom of the drainage.
We didn't have any fear of getting lost, but we didn't have enough layers to stay alive out there all night so we kept a fast pace.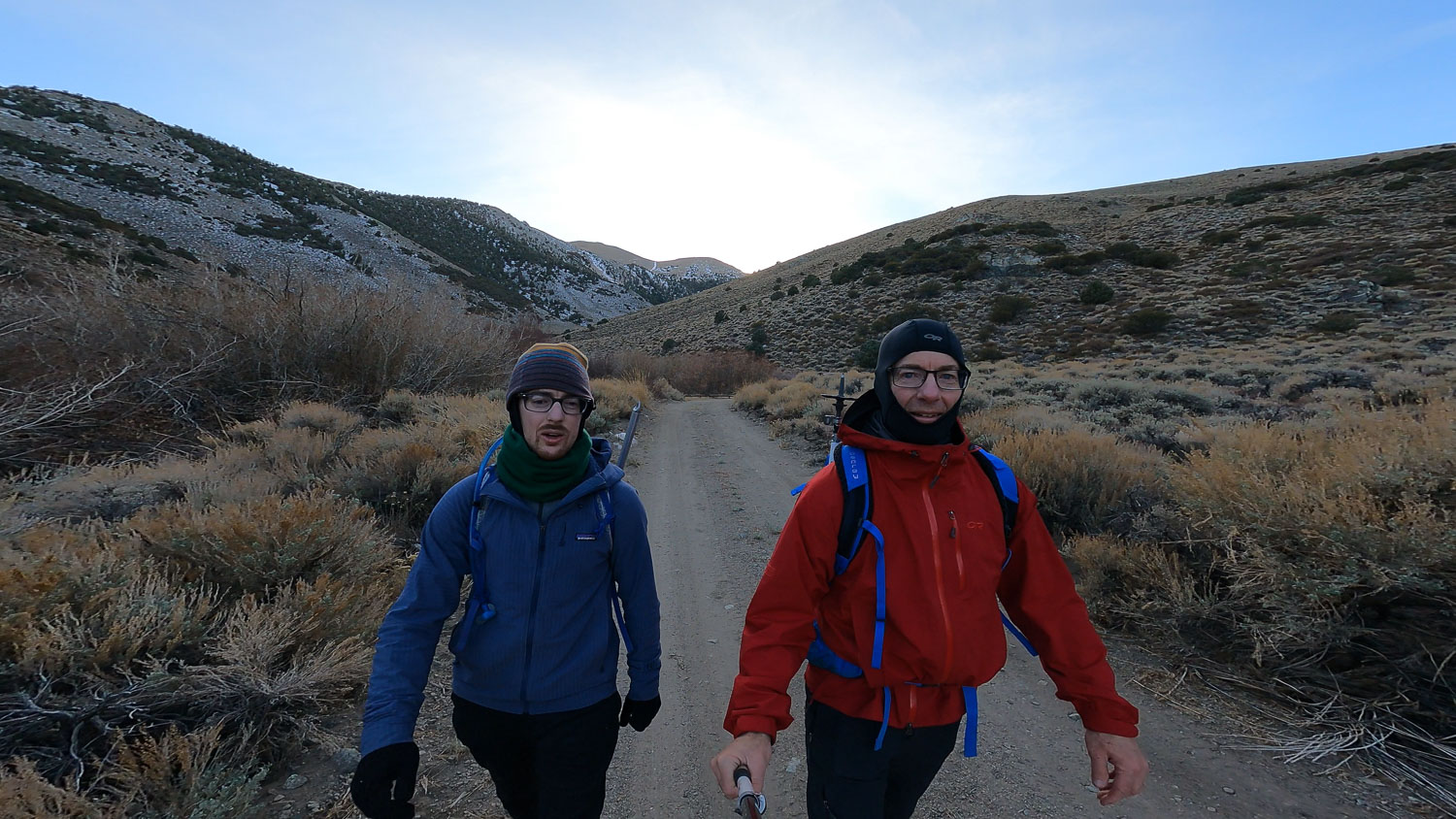 By the time we reached the car at 3:00 pm, the temperature was down to 28 degrees again – and falling. And we were both surprised at how great we felt at the end of the day. It was a long drive home, but we both had good energy and conversation most of the way. Half a can of Red Bull kept me awake and alert all the way to my front door.
Wild Mustangs!
As we drove down a 10-mile stretch of dirt road from the trailhead to the highway, we saw a sight I will never forget. We caught a glimpse of a herd of wild mustangs grazing near the road. When we passed, the entire herd broke into a stampede, sending up clouds of dust in the air. It was like being in a time machine seeing these beautiful animals run together. I slammed on the brakes and Wes pulled out the GoPro, but they were too far away by the time we shot video. The photo below is the best we could do…
Elevation Profile
Route Map